A new stage of life can bring new opportunities and extra time to relax, unwind, and focus on your hobbies. If you or your loved one is transitioning into retirement, the first step is finding the right community and lifestyle that best meets your needs.
Entertainment is an important aspect of daily living because everyone needs some time to relax. Board games are an excellent option to combine entertainment and socializing to help keep your mind sharp.
Let's look at some fun board games for seniors and how they can help spice up a new stage of life.
Board Games for Senior Living
That next chapter of life is an exciting time to explore your interests and find something that you love to do. Creating new connections and being able to socialize is a key pillar of senior living.
Board games are something that can populate your day and combine the socializing aspect of your new lifestyle and entertainment.
Let's explore some board games that can be fun for seniors.
Chess
Chess is a classic board game that features strategy and logical reasoning. Chess is an excellent option for seniors as it focuses on improving problem-solving skills and keeps your brain active.
The rules are also simple to grasp once you get into the game. Chess helps improve cognitive abilities, especially mental clarity and analytical thinking!
Lotto Board Game
Lotto is a precursor to bingo, a game of chance using cards that feature a grid of numbers. Lotto works much like bingo, and players must fill one complete to win a round.
The game is designed for up to 48 people, giving plenty of time to socialize and make new friends.
Backgammon
Backgammon involves 2 players, with the ultimate goal being to move all checkers from the board. Although the game can involve some luck, strategy also plays a big part.
Backgammon helps develop analytical skills and is a great stress reliever for seniors while sharpening their critical thinking skills.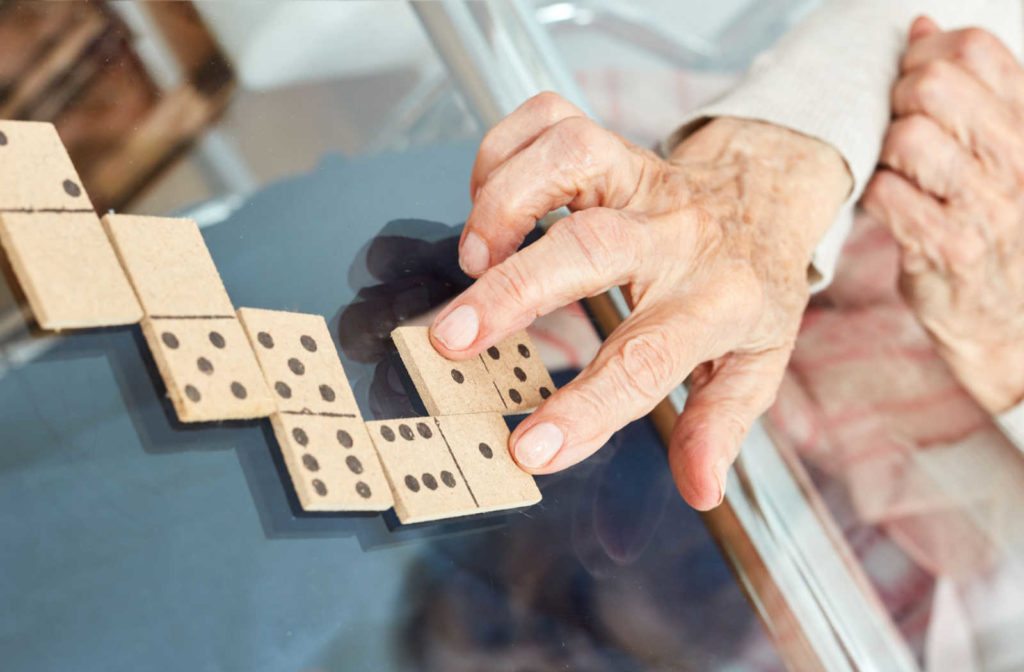 Scrabble
Who doesn't enjoy a fun game of scrabble? Scrabble is a classic word board game where the goal is to score the highest number of points using your vocabulary skills.
Scrabble is an excellent option for seniors as it contributes to brain development and memory retention. You'll need to activate your strategizing thinking skills!
Playing Cards
While this isn't technically a board game, a deck of cards is always nice to have around. A deck of playing cards has many functions and allows for socializing and having a good time with the people around you.
Simple games such as snap or go fish can keep you entertained for hours, and playing cards are always an excellent option to have in your back pocket.
Dominoes
Dominos is a matching game involving tiles with numbers you'll have to match. This game includes strategy that will give your brain a workout and get those competitive juices flowing!
Dominoes is also beneficial for improving spatial recognition.
Monopoly
We couldn't go through this whole list without including a classic board game staple. Monopoly is a strategy game that involves sharpening your problem-solving skills as well as your decision-making skills.
Monopoly promotes plenty of socializing and can be a fun way to spend an evening with your favorite people.
Keeping Your Days Fun & Exciting
Board games are an excellent way to add some spice to your days and spend time with some of your favorite people. No matter your interests, taking time to try a new board game can unlock some interests and new opportunities. Your new community will provide a vibrant social calendar that you can consult to budget your time. Get in contact with a professional to explore what type of entertainment you can expect in your new community!